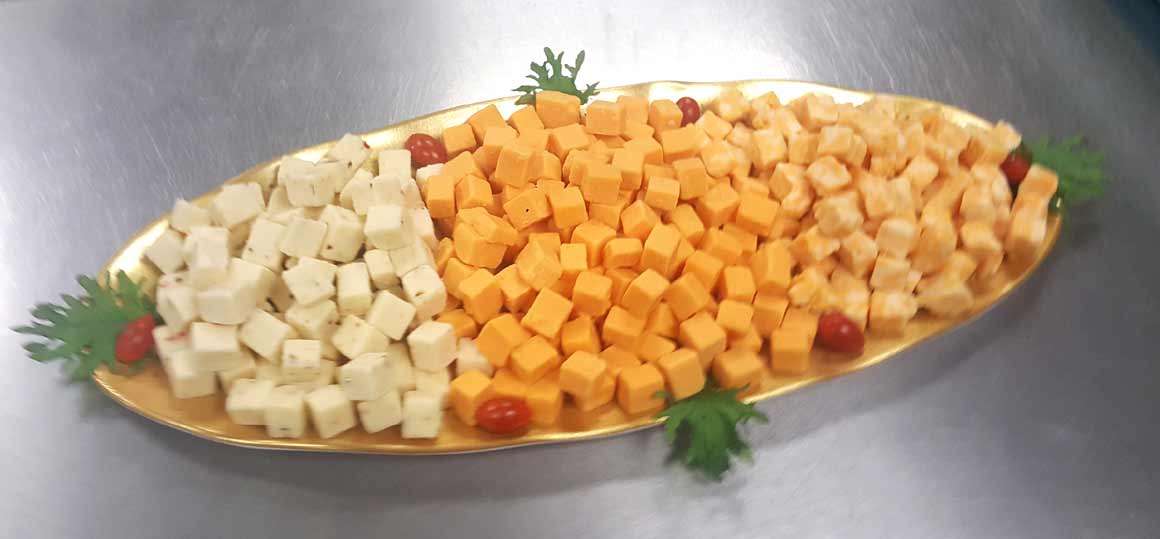 Reception Appetizer Options and Food Tray Add-Ons
13 inch trays (feeds 25-30 people) for $75 or
15 inch trays (feeds 50-75 people) for $150
Fresh Veggie Tray - A harvest of fresh, crisp garden vegetables with our delicious ranch dip.
Fresh Fruit Tray - A bountiful array of seasonal fruit is the perfect centerpiece for any morning, afternoon, or evening event. (Fruits may vary by season).
Fruit and Cheese Delight - Rich, tasty cheddar, havarti and domestic swiss cheese with cool, refreshing strawberries, grapes, cantaloupe and pineapple. (Fruits may vary by season).
Deviled Eggs, Bean Dip and Salsa Tray - Refried beans, cheddar cheese, sour cream, chili peppers, green onions, tomatoes, olives and a bowl of salsa.
Pinwheel Sandwiches - Soft Lavish flat bread layered with cream cheese, baked ham, premium turkey breast, Provolone, tomato, and green leaf lettuce, rolled up and sliced, yielding a colorful spiral of flavor.
Ham Pinwheels - Ham Pinwheels with Mustard-Herbed Cream Cheese.
Spicy Chicken Taquitos with Salsa
Puff Pastry Pastel - Puff Pastry Pastel filled with Chicken, Meats or Vegetables.
Fried Bananas
Meat balls - Swedish, BBQ or Sweet and sour.
Roasted Red Potatoes stuffed with Turkey Salad
Croissant Sandwiches - Flaky, light, and buttery croissants layered with baked ham, roast beef, or premium smoked turkey breast, and American cheese; garnished with leaf lettuce, olives and sweet pickles.
Tomato & Buffalo Mozzarella on Crostini
Celery Stuffed with Bleu Cheese & Walnuts
Salami Coronets with Cheddar Cheese - Salami Coronets with Cheddar Cheese.
Brazilian Sausage in Puff Pastry - Brazilian Sausage in Puff Pastry with Spicy Mustard.
Stuffed Dates - Stuffed Dates with Gorgonzola accompanied by Honey Lime Sauce.
Chicken Piccata - Chicken Piccata Chunks with Lemon Sauce.
Miniature Egg Rolls - Miniature Egg Rolls with Mustard and sweet and sour sauce.
Price $75.00 or $150.00