Same Sex Weddings Las Vegas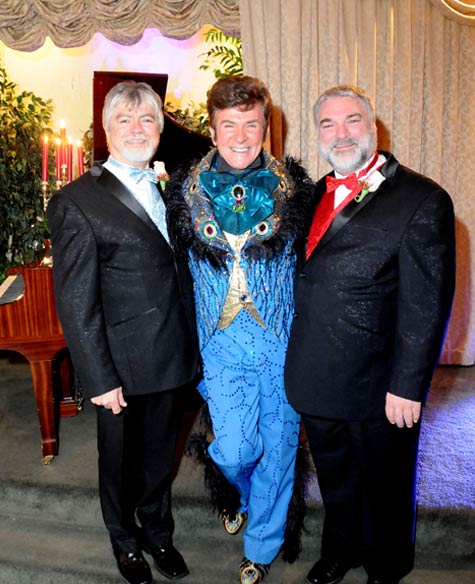 We are grateful that Same Sex Weddings in Las Vegas are a reality now that it's finally legal for same-sex partners to get married in Las Vegas. Whether you're planning a Traditional, Themed or Elvis wedding in Las Vegas, Viva Las Vegas Weddings specializes in creating cherished memories on your long-awaited day. As the only gay-owned-and-operated chapel in Las Vegas, we offer same-sex weddings Las Vegas that include a warm welcome from all of us and a diverse selection of wedding packages. If you don't find a wedding package that perfectly expresses who you are as a couple, give us a call. We're here for you, and we're happy to customize a wedding ceremony that is uniquely you.
Viva Las Vegas Weddings offers romantic weddings with traditional ministers, but you can also tie the knot with Elvis, a Tom Jones or Liberace impersonator, "Marilyn" (Manson or Monroe tribute artists), Dracula, or a vast array of wild and crazy characters and look-a-likes. Or, choose from our many themed weddings that include theatrical lighting, smoke effects, sets, costumed characters, plus round-trip limousine service from your Las Vegas Strip or Downtown hotel. Best of all, our ceremonies can be viewed streaming live on the Internet (as an upgrade), so friends and family back home won't miss a moment of the fun. (This option is great for elopements!)
Our friendly, experienced staff will make everything easy for you, and our many all-inclusive packages take away all the nerves and stress. You want your same-sex wedding Las Vegas to be relaxed and flawless, and that's what we strive for at every one of our weddings. At Viva Las Vegas Weddings, you even have a choice of elegant indoor or picturesque outdoor settings. Enjoy browsing through our seemingly endless options. The hardest part of getting married with us at Viva Las Vegas is making all the choices. We do all the rest!
Same Sex Weddings In Las Vegas, Nevada!

On October 7, 2014, the 9th Circuit Court of Appeals ruled in favor of marital equality, allowing same-sex couples to legally marry in the state of Nevada. Since then, we've been thrilled to offer lesbian, gay, bisexual and transgender couples the equal opportunity to become one in our legal Same Sex Weddings Las Vegas. Come join us when it's time to celebrate your marriage with a Traditional, Elvis or Themed wedding in one of our fabulous Viva Las Vegas Wedding Chapels.