Themed Wedding Venue in Las Vegas, NV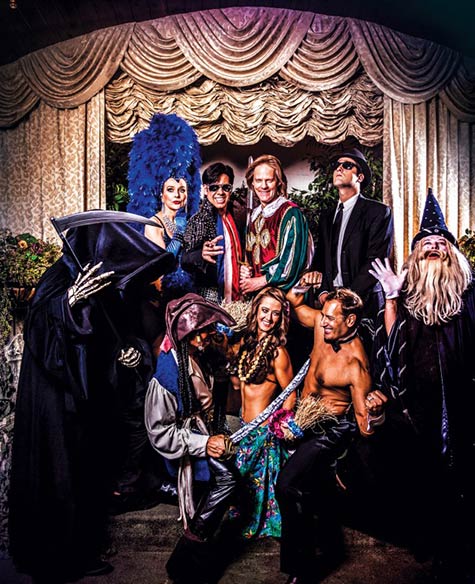 If the classic or traditional Las Vegas wedding just isn't for you, Viva Las Vegas Weddings specializes in wildly imaginative themed weddings Las Vegas, too! Choose from our many packages featuring superheroes, music icons, and movie characters as ministers. These uniquely outrageous themed weddings blend all the best elements of an elegant traditional ceremony with the fun and fantasy of your own creation. Don't see a theme that's just right for you? Feel free to combine and customize our themed wedding packages. Or, call us with your special requests. We're up to almost any challenge to make your wedding day perfect for YOU.
Our Main Chapel is outfitted with theatrical lighting and fog effects which is the perfect themed wedding venue for your Las Vegas wedding, it includes all the sets and props and legendary characters needed to stage your unique themed wedding ceremony. These award-winning Las Vegas weddings were designed by show business professionals with many years of experience in the entertainment industry. Our friendly expert staff also makes sure you receive impeccable service. We want your wedding to be a warm, welcoming and unhurried affair, besides being an unforgettably fun event for everyone present. Themed weddings Las Vegas present fun and different options for the ultimate themed wedding, whatever your theme Viva Las Vegas Wedding Chapel can accommodate your request and has it covered.
Remember, we also rent costumes! Or bring your own. It's even more fun if your guests dress up, too. (At your option, though, you can wear traditional wedding clothes, and we'll do the costume thing.) For those who are already married, our themed weddings are a wonderful way to renew your vows, to experience the wedding you would have liked to have had the first time, but maybe didn't have the nerve. At Viva Las Vegas, anything is possible, even second chances!
Have a question about Themed Weddings Las Vegas? Call toll free 1-800-574-4450 to speak with one of our themed wedding specialists.