Elvis Wedding Package in Las Vegas, NV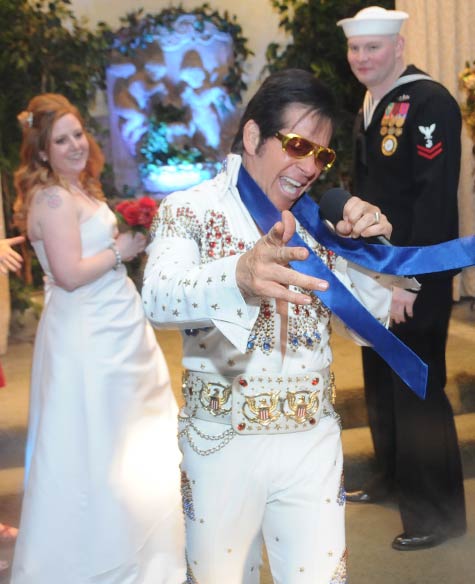 If you're not into the typical traditional wedding thing, who wouldn't want the fun and quirky excitement of getting married by Elvis in Las Vegas? The vows are just as meaningful, and your special day will be just as unforgettable. We promise! Our Elvis Wedding Packages Las Vegas are not only amazing fun but excellent value with Elvis Wedding Packages starting from as little as $300.
All of our incomparable Elvis impersonators boast real professional singing cred—from the Broadway stage to Las Vegas Strip resorts. They'll serenade you live, performing songs and your vows with a touch of sentimentality and a hunka hunka burnin' love. Elvis can even walk you down the aisle, if you like. Elvis Wedding Packages Las Vegas, NV bring the King into your wedding with all the pomp and ceremony of the King of Rock 'N' Roll himself! With songs like Love Me Tender or Can't Help Falling In Love, the atmosphere will be electric for your special day in Las Vegas.
For a tropically romantic twist, choose our Elvis Blue Hawaii Wedding, with palm trees, ocean mist and a hula girl dancing to Elvis's rendition of the Hawaiian Wedding Song. Or, have a look at one of our Doo Wop Diner wedding packages, with Elvis doing the honors beside a retro '50s jukebox and soda fountain. For the most incredible Elvis Wedding Packages Las Vegas EVER, pick our Elvis Pink Caddy wedding. He'll drive you right down the aisle in his '64 convertible, much to the amazement of your guests. For this one, you'll want to upgrade to add live streaming coverage online for friends and family back home.
Elvis Weddings Packages Las Vegas
Offer you and your fiancé the most memorable wedding experience in Las Vegas at "THE" Elvis Wedding Chapel.
Renewal of Vows in Las Vegas with Elvis
Even if our Elvis Wedding Packages Las Vegas are a bit too kitschy for you, we're guessing that a wedding vow renewal by The King of Rock n' Roll is on almost everyone's bucket list. All of our Elvis wedding ceremonies can be performed as wedding vow renewals. No wedding license or paperwork necessary!
Have a question? Call toll free 1-800-574-4450 to speak with one of our Elvis wedding specialists.