Las Vegas Weddings are Romantic, Elegant & Exciting
Is your dream wedding in Las Vegas romantic and tastefully traditional, or are you looking for a unique, fantasy- themed ceremony that expresses who you are as a couple? Maybe your idea of the perfect Vegas wedding is one that includes fun-filled vows with Elvis. No matter how you choose to tie the knot, Viva Las Vegas Wedding Chapel has the perfect wedding package for you!
Offering the most popular, creative, and affordable wedding ceremonies in Las Vegas. Live Video Web Stream of your ceremony is also available. State-of-the-art technology throughout our chapels allows your family and friends back home to view your Las Vegas wedding in real time on the Internet. That means no one needs to miss out on your beautiful wedding!
---
Las Vegas Couples Say "I Do" Despite Virus Worries
Viva Las Vegas Weddings announces that love is in the air and wedding season is still in full bloom, despite national anxiety over the Covid-19 virus. The chapel is carefully following all CDC guidelines, taking every precaution to make sure the property is thoroughly sanitized before each ceremony. With fears and hyperbole dominating the news recently, Viva Las Vegas wants betrothed couples to know that the wedding doesn't have to be called off. The chapel is very much in business this spring!
As chapel owner Ron Decar attests, "The two of you can get married here despite the outbreak. In fact, we offer several ways to have your wedding and maintain proper social distancing. We can live stream your wedding anywhere in the world. Elope to Vegas and let friends and family watch safely from home—or quarantine. (We hope that's not the case for your loved ones.) If you have guests in Las Vegas, we'll observe an abundance of caution with special seating arrangements and wedding coordination to allow for adequate spacing. We even have two idyllic garden chapels, if you prefer to tie the knot in fresh air and sunshine!"
---
Contact A Las Vegas Wedding Planner
Call, email or chat with one of our experienced Las Vegas wedding planners. Discuss one of our many Traditional, Elvis or Themed Las Vegas Weddings. All of our wedding packages can be modified and added on to, to get you the best Las Vegas wedding experience possible on your budget.
---
Viva Las Vegas Weddings Celebrates 21 Years of Love!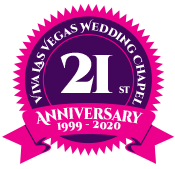 It's been a romantic and outrageously fun thrill ride, so much so that we can hardly believe we've now been marrying happy couples for 21 years! Since 1999, over 100,000 brides and grooms have passed through our chapel doors to be married by a warm and welcoming minister, or…by Elvis, the Bluez Brothers, Dracula, King Tut, Merlin the Magician, and almost any other iconic impersonator or movie character you can name!
What's even more meaningful to us is that many couples have returned to renew their wedding vows with us after 5, 10 or even 15 years. In 2020, we will begin renewing vows for couples who first got married at Viva Las Vegas Weddings 21 years ago! We hope to see you again in this, our 21st year—and bring an old Viva Las Vegas Wedding photo from your first ceremony, to help jog our memories. (You may even have the same Elvis minister!)
---
Same Sex Weddings In Las Vegas, Nevada!

On October 7, 2014, the 9th Circuit Court of Appeals ruled in favor of marital equality, allowing same-sex couples to legally marry in the state of Nevada. Since then, we've been thrilled to offer lesbian, gay, bisexual and transgender couples the equal opportunity to become one in our legal Same Sex Weddings Las Vegas. Come join us when it's time to celebrate your marriage with a Traditional, Elvis or Themed wedding in one of our fabulous Viva Las Vegas Wedding Chapels.
---
Enjoy a Toast Before or After Your Wedding!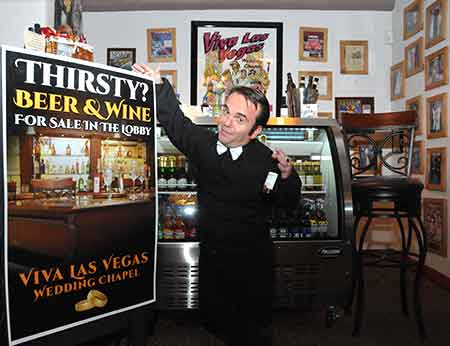 We offer a wide selection of beverages, including beer and wine, for purchase in our lobby. It's a "spirited" way to celebrate with your guests or to take the edge off any pre-wedding jitters!
We also offer a hosted bar either before or after your ceremony. You and your guests can share drinks and mingle in a more private setting, either in one of our intimate reception rooms or at our spacious and spectacular Event Center bar. For a truly unique and fun celebration, add a themed character to your hosted bar! You can choose a Mini Elvis Impersonator, a Mini Bar "Man", Little Sinatra, or "Tyrion Lanister" as your bartender. Contact a wedding planner to discuss how to make your wedding day unforgettable and full of surprises.
---
Dina and Roy 10 Year Vow Renewal Video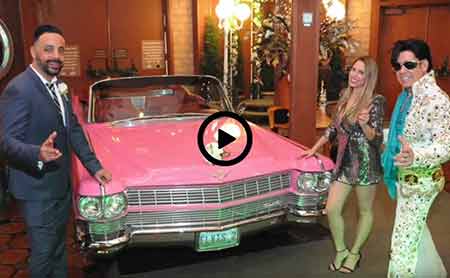 Check out the latest video from one of our amazing wedding couples - Dina and Roy. They made a video about their renewal of vow ceremony at Viva Las Vegas Wedding Chapels, we loved it so much that we had to share it. Here are some kind words from Dina and Roy.
"Had my 10 year wedding vow renewal here and had the one and only Elvis Pink Cadillac wedding. We had the best time ever! Would definitely recommend this wedding chapel! Video below!" Click here to watch the video.