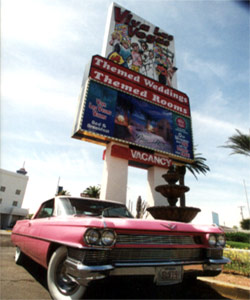 Viva Las Vegas Weddings First Reality TV Show Aired In July 2005
A&E TV will broadcast Viva Las Vegas Wedding Chapel's new reality television show called Married in Vegas on Tuesday, July 12, 2005 at 10pm. It is scheduled to be repeated on Saturday, July 16, 2005 at 4pm.
What Happens In Vegas, Doesn't Always Stay In Vegas!
With an average of more than 315 weddings a day, from high profile celebrities to impulsive tourists, Las Vegas has without a doubt earned its nickname as the "Wedding Capital of The World." Whether it's a traditional ceremony or a wild themed nuptial you're dreaming of, you will be sure to find what you are looking for in the town known as "Sin City."
A&E Network Special Presentation of "Married In Vegas"
Married In Vegas takes you behind the scenes for an unprecedented look at the wild and wacky world of Las Vegas weddings, as seen through the eyes of the zany Viva Las Vegas Wedding Chapel and Hotel and the people who work there. On this day, over 40 couples will be married by a kooky cast of characters ranging from Merlin the Magician to The Godfather to Austin Powers to Elvis. Meet Ron, the owner who can go from performing as Elvis or Merlin one minute to scrubbing out a guest toilet the next; Millie, the wedding photographer; Chad, the hotel manager; Hope, the chapel manager; Lisa, the glamorous head limo driver and Gary, the alternate Elvis impersonator.
The A&E Network and Light Hearted Entertainment film crew was at Viva Las Vegas Weddings and what a time we had! We would like to thank all of our brides, grooms and couples for allowing their weddings or renewal of vows ceremonies to be filmed. Couples do be sure to tune in and see your wedding on Television! We invite you to watch our new show and tell us what you think. Do visit Married in Vegas on A&E website. Viva Las Vegas!!