Traditional Weddings In Las Vegas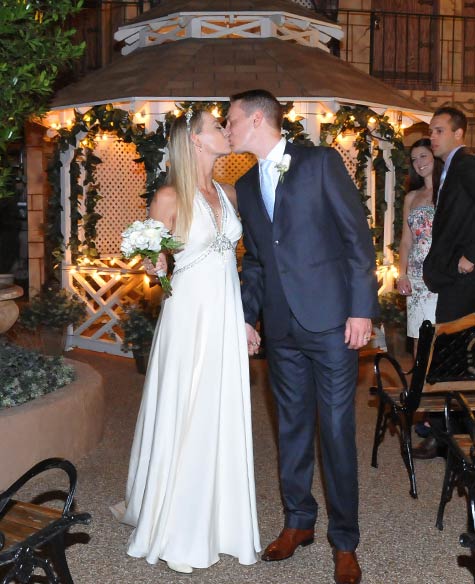 Even though you're planning a traditional wedding in fabulously non-traditional Las Vegas, that doesn't mean it can't be as elegant and romantic as you've always imagined. Whether it's a simple wedding with just the two of you, or a lavish ceremony with all the frills, you're sure to find the perfect (and perfectly affordable) wedding package for you. With our wide selection of weddings, chapels and settings, the only hard part is choosing the wedding package of your dreams.
At Viva Las Vegas Weddings, we make it our goal to create a wedding day that's as flawless and stress-free as possible. Many couples choose to marry in our Viva Las Vegas Wedding Chapel because it has the perfect ambiance for Traditional Weddings in Las Vegas. Plus, everything is arranged for you. All packages include photography, video, and even fresh flowers designed by our onsite florist. Upon arrival at the chapel, you'll have a personalized rehearsal before your ceremony with a calming, caring wedding coordinator. Our friendly staff takes care of everything for you so you can simply relax and revel in your unforgettable day!
Viva Las Vegas Wedding Chapel has a longstanding tradition of excellence. As you make all the arrangements with us at Viva Las Vegas Weddings, you'll experience professional and courteous service from our highly trained staff. We have won every major award for Traditional Weddings in Las Vegas and in Nevada, for our service and attention to detail, including the Best of Las Vegas, Best of Nevada, and the Governor's Award. We consider it an honor to be part of your special day, and we truly strive to make it a celebration to remember.
Renewal of Vows in Las Vegas
Celebrating an anniversary? A wedding vow renewal in Las Vegas is the perfect way to commemorate a 10th or even a silver or golden anniversary. (And you won't need to go downtown for a marriage license this time!) All of our traditional Las Vegas wedding packages—and even our Elvis and themed weddings—can be performed as vow renewals. We can also arrange for a surprise renewal—for your parents, perhaps, or an unsuspecting wife. There's no more touching or joyful way to say "I Do" all over again!
Have a question? Call toll free 1-800-574-4450 to speak with one of our wedding specialists.