Outdoor gazebo weddings provide
a beautiful and natural backdrop for traditional and not-so-traditional ceremonies. Have your dream Gazebo Wedding at Viva Las Vegas Wedding Chapels.
Reserve Your Wedding Today!

Open the door to your Las Vegas fantasy and stay at the Palms Place Suites. Walk down the aisle at Viva Las Vegas Weddings and into days of paradise and nights of bliss with glorious views of the strip and all the amenities the Palms has become famous for. Allow us to go beyond meeting your needs and expectations!
Old Tradition, the groom shouldn't see the bride until she walks down the aisle! New Tradition, getting hitched in Fabulous Las Vegas! Our "First Look" packages marry the old with the new.
At Viva Las Vegas Weddings brides can ride in a separate limousine, primp with their wedding attendants in a luxury suite and enjoy individual wedding coordination.
Check our Viva Las Vegas
First Look Packages
If you are after the ultimate
Las Vegas wedding experience, this package delivers. You will get married in front of the
famous Las Vegas Sign with
Elvis conducting the ceremony!
Package Price
$699.00
Renewal of Vows in Las Vegas
Reaffirm Your Love with a Las Vegas Wedding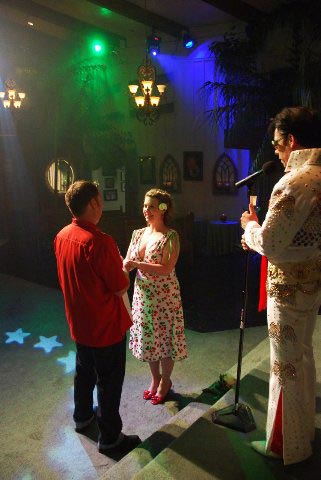 If you had a formal church wedding the first time and want to bring back some of the romance and excitement of your wedding day, Viva Las Vegas is the place to do a thrilling wedding vow renewal ceremony. And we have all the options. You can choose a romantic, traditional ceremony just like your first wedding, or a fun and crazy themed wedding package, the one you may have wished for the first time, but didn't dare go through with. That's what a themed vow renewal is all about. It's the fun wedding in Vegas!
Because second weddings are all about fulfilling fantasies, your wedding ceremony can be performed by any of our iconic wedding "ministers"--- Elvis, a Liberace or Tom Jones impersonator, even James Bond or Dracula! Any of our Elvis, themed or traditional wedding packages can be performed as wedding vow renewals or Commitment ceremonies---no wedding license required! After the ceremony, the happy couple will see their names in lights on our marquee, right on the Las Vegas Strip. It's the most amazing Vegas photo-op ever!
Celebrating an anniversary? An imaginative themed wedding vow renewal in Las Vegas is the perfect way to commemorate a 10th, 25th or even Golden Anniversary! We can even arrange for a surprise renewal, which we've done many times, planning in cahoots with the grown children of parents for their 35th or 50th wedding anniversary. As you make all the arrangements with us at Viva Las Vegas Weddings, you'll experience professional and courteous service from our highly-trained staff. We'll make sure to get every detail right for this special occasion, from flowers to transportation to music. We offer the most choices in Las Vegas for fun and romantic themed vow renewal and commitment ceremonies, and we'll cheerfully help with all aspects of your decision-making process.
At Viva Las Vegas, our traditional Las Vegas wedding packages are just right for intimate vow renewals. Our Outdoor Garden and Gazebo Chapels make for quaint and picturesque spots to say "I Do" again. For more adventurous couples looking for a unique themed wedding, our most popular Vegas wedding vow renewal ceremony is the exotic Elvis Blue Hawaii wedding. This Las Vegas wedding package comes complete with tropical decor, theatrical lighting and fog effects, and even a live hula dancer to perform during Elvis's rendition of the Hawaiian Wedding Song. Elvis himself does the honors for your wedding vow renewal. Best of all, "The King of Rock 'n Roll" sings three of his most famous songs during the ceremony. Feel like dancing? At Las Vegas Elvis weddings, most of the guests are up on their feet dancing after the kiss, while Elvis rocks out on "Viva Las Vegas!" (You'll want to tell your guests that Hawaiian shirts are optional...)
Not an Elvis fan? Viva Las Vegas Weddings offers unique themed wedding vow renewal and commitment ceremony packages. Choices include the Camelot Wedding (with knights as attendants and either King Arthur or Merlin to officiate), the Egyptian Wedding Ceremony with King Tut, the Austin Powers 60's wedding package, and even an Intergalactic Themed Wedding, for fans of Star Trek or Star Wars movies. Most of our packages include video, photography, super-stretch limousine service, flowers and more. Family and friends who can't come to Vegas for your wedding vow renewal ceremony will be able to watch live via our Internet Web Cam.
From traditional weddings to elaborate themed affairs, Viva Las Vegas Wedding Chapel promises to make your wedding vow renewal or commitment ceremony an event to remember. We're honored to be a part of your special day. And, we just know that one of our award-winning Las Vegas weddings will be right for the two of you!
Check out Las Vegas wedding video samples of our elegant traditional ceremonies, fantastic theme and Elvis wedding packages
What our customers have to say!
I think the website drew me in, but the packages hooked me! I booked our Wedding Vow Renewal for my wife's birthday present and, to be honest, it couldn't have been much easier. I'd kept it a secret, telling Emma it was a meal we were going out for. She had no idea until she saw the limo! Our driver was great, courteous and fun, the limo was really nice, talk about travelling in style.
The chapel is really nice inside and out, the staff are about as polite as you get and then there was Elvis. Incredible. And also very funny. His singing was top notch, he even impressed my mother-in-law, so it must be good. Then the proofs of the photos came and the fun came back again.
We had the time of our lives on this holiday to Las Vegas but the crowning glory was the time spent on that day in November at Viva Las Vegas Wedding Chapel.
Quick Tip: Get married here and then that evening watch the fountains at the Bellagio and you will not have a more romantic day.
Thanks so much, John Tinker
We just wanted to tell you how much we enjoyed our 20 year vow renewal at the Viva Las Vegas Chapel. Everyone was very friendly and made us feel very comfortable and relaxed. It was everything we hoped it would be. Elvis was absolutely wonderful. Everyone in our party commented on what a great job he did and what a voice! Very professional.
Thanks again, The Paige's Tampa Bay, Florida
My name is Jim Scott.
My wife Stephanie and I celebrated our 20th anniversary on the 8th of this month by renewing our vows. The whole Vegas trip, including our Blue Hawaii ceremony was a surprise from me to my wife. I just wanted to write you and thank you and your staff for the excellent job they did. Everyone from the limo driver to the front desk were all very friendly and genuinely nice people to work with. The performance was excellent. Elvis was great, and until I saw the video I had no idea what a superb job the hula girls did. I had not realized that they performed several choreographed routines. For some odd reason, I was paying attention to my wife, instead of 2 lovely women dancing in grass skirts. So please extend my apologies, and thank them along with the King for the excellent evening. My wife thoroughly loved it, and my brownie point score shot through the roof thanks to you guys.
Jim
Thank you so much for making our vow renewal ceremony an experience we will always remember. Elvis was warm, fun, and the new jumpsuit was pure Vegas!
The video Fernando made really captured the moment and we look forward to receiving the photos. The limo was on time and clean and our driver, Scott was courteous and shared stories of his wife's love of Elvis. The event was much more than we expected. Thanks for a great surprise!
Kevin & Terri Mann
Camas, WA
Elvis Special July 14 @ 12:30pm